Red Sox vs. Angels... again. Just like 1986, 2004, 2007, 2008. This is the 5th time these two teams have met in the postseason, and the Red Sox have won all 4 previous series. The Sox are 13-4 against the Angels in the playoffs.
But that's small comfort to me.
Here are the pitching matchups for this series:
Game 1: Jon Lester vs. John Lackey
Game 2: Josh Beckett vs. Jared Weaver
Game 3: Clay Buchholz vs. Scott Kazmir
Game 4: TBD vs. TBD
Game 5: TBD vs. TBD
Game 1 looks like an offensive shootout in disguise. The Sox hit Lackey well. The Angels hit Lester really well. Victor Martinez is 10/21 against Lackey. Vlad Guerrero is 4/10 against Lester. This game will surpass 10 total runs and will be determined by the bullpens. The Angels' pen isn't as deep as the Sox, so Game 1 will go to the good guys.
Game 2 worries me. Josh Beckett worries me. He had 20 Quality Starts, but a 3.86 ERA. He's been up and down all season. I really hope I'm wrong, and that 2007's Josh Beckett comes out to shine in the 2009 postseason, but I think we'll see what we saw in the '08 LCS against Tampa. The Sox hit Weaver well, so it'll be close, but I have to give the Angels the edge in Game 2.
Splitting two games in Anaheim would be a fantastic result for the Sox, who have the 2nd best home record in all of baseball. But the Angels have a secret weapon in Scott Kazmir. V-Mart, Ellsbury, and Pedroia will be able to hit Kazmir. The rest of the lineup will be lulled to sleep. I'm looking forward to seeing Buchholz in the playoffs. I think he'll do fine. But Kazmir will be lights out. Angels in Game 3.
This means Game 4 will be crazy. Matsuzaka is the likeliest candidate to start, but if the Sox are down 2-1, Lester might get the nod on short rest. Either way, I have little faith. Matsuzaka is a ticking timebomb waiting to implode. Lester's a lot like Pedro Martinez in that he needs his 4 days rest, and is a great pitcher for 100 pitches. But mess with that, and you're playing with fire. Angels win Game 4.
I really really hope I'm wrong. But I can't shake the feeling that the Angels will win this series in 4. Maybe it's just my late 90s pessimism reemerging. I certainly hope so.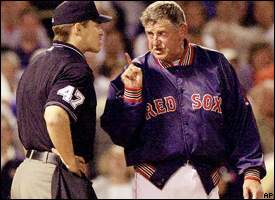 And if the Angels do win, it won't be because of Mike Scioscia's managerial style. It won't be because of stolen bases. It will all come down to pitching. As great as the Sox starters can be, they can be equally as bad.