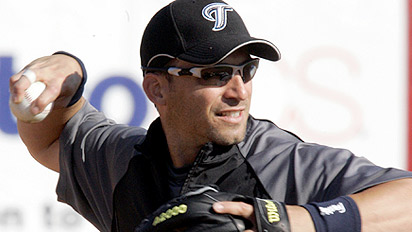 The Sox seem to have found a solution to their short-stop problem (how many times have we said that before?), or so it seems. They've signed Marco Scutaro to a 2 year deal, which also comes with an option for a 3rd year.
Scutaro is solid. You'll hear that word a lot today as this deal is discussed. Solid. Solid. Solid. He's a solidly sound fielder, who hits for a solid average, and has a nice solid OBP. He hit .282 with a nice .379 OBP last year. He also knocked out 12 homeruns.
The Sox will have to send a 1st round pick to Toronto, but they just got one from the Braves when they signed Wagner.
The short-term of the deal is fantastic. Whatever the salary turns out to be, it's not something that will weigh heavy on the Sox payroll for years to come like Julio Lugo and Edgar Renteria.
The short deal also allows the Sox to groom Jose Iglesias in the minors for a few years without any rush, but then open the door for him in 2012 or 2013.
Sources:
Boston Herald
Baseball-Reference.com