The Islanders have a handful of quality forwards, and some delicious ice girls.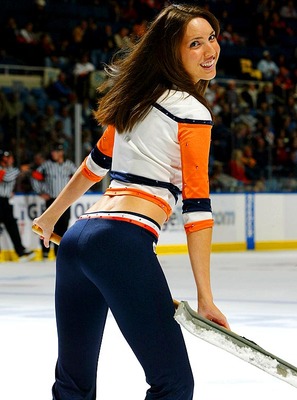 That's it. They don't have a defense, and certainly don't have any good goaltenders. They've had 6 different guys start in net for them. They don't have a starter and backup, they have an entire rotation.
What can you say about a 6-3 win over a team this bad? I'm not impressed. I hardly care. I'm glad Rask didn't completely blow the 5-1 lead he was given, allowing Thomas a proper night off. Where are all those Tuukka Time twits now?
Seguin had a nice game. He skated with determination and gusto. He was rewarded with a goal. With the great Chris Kelly in the mix now, Seguin will be competing for ice time. Instead of say, learning how to play pro hockey in Providence and getting 20 minutes a night. Seguin did have a nice statement game for himself last night, at least.
Every game, Nathan Horton reminds me more and more of Glen Murray in his final days. Crafty enough to find space for himself, good enough to be in the right place at the right time. Then missing every shot. He's not even getting pucks on goal. When will it be scratch time for him?
The B's play another struggling team in Ottawa tonight.
Photo Credit:
AP Photo