I wasn't particularly excited about the slate of games on this weekend's schedule. But the beautiful thing about college football is that you never know which games will be entertaining to watch, and there were plenty of those on Saturday. Here are the highlights:
FOOTBALL IS BETTER AT NIGHT
It was Michigan's first home night game and they'll probably host a few more after their 35-31 victory over the Irish. Night games are just better. The crowd is more amped (and drunker), the players have all day to get pumped for the game. It's just better.
OHIO STATE IS PROTECTED BY THE NCAA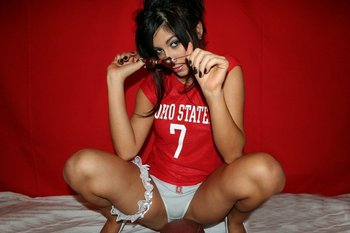 I'm not normally a conspiracy theory guy. But OSU got a slap on the wrist even though their head coach failed to report violations. On Saturday, they're down 22-21 to Toledo, and fail to score on a 3rd & goal. Instead of being forced to kick a field goal, a ref throws a flag for defensive holding. The Big Ten Network doesn't show a replay, but on my DVR I watch the "penalty" and see a tight-end running into a safety and grabbing him. OSU gets a fresh sets of downs, and then a touchdown. Instead of a 24-22 Ohio State lead, it's 27-22. With 3 minutes left, Toledo drives to the 17, but can't just kick a field goal. They wind up turning the ball over on downs.
Ohio State gets away with everything. They might have lost to Toledo if not for a very bad call. I hate them more than any team in the country.
THE BIG XII CHAMP WILL BE FROM OKLAHOMA OR TEXAS (BUT NOT AUSTIN)
Oklahoma State demolished Arizona on Friday. Oklahoma became the first team to be voted #1 in the AP Poll 100 times. Meanwhile, Texas barely beat BYU 17-16, Missouri lost to Arizona State. ITexas A&M and Baylor were both idle this week, but they're probably the best two teams in Texas, perhaps TCU is on that level too. My point is, The University of Texas is the #4 team in Texas.
WILL ANYONE SURVIVE THE SEC WEST?
LSU should be ranked #1. Alabama went to State College, PA and left with a convincing win. Mississippi State is a darkhorse in the division, but they couldn't beat Auburn on the road. There are 5 legitimately good teams out there. Can any team run that gauntlet and not lose 2 games?
NOTRE DAME WAS OVERRATED
There wasn't much factual evidence to support Notre Dame's preseason rankings of 16 (AP), and 18 (Coaches'). And now everyone else in the country knows what I knew before the season started: Notre Dame sucks. They might start 0-3 as they host Michigan State next.
BC WILL NOT MAKE A BOWL GAME
It's been 13 years (1998) since BC did not make a bowl game. But after the Eagles' 30-3 loss to Central Florida of C-USA, it's hard to imagine them winning the required 6 games. BC has no ability to score. They only had 141 yards of offense against UCF. Chase Rettig was 10 for 23 for 70 yards and 2 picks. BC should beat Duke and UMass at home, but now games against the likes of Wake Forest seem like daunting challenges.