It finally happened. After countless rumors, what had to be done was finally done. The Red Sox parted ways with Kevin Youkilis.
Youkilis' last day on the team was thoroughly pleasant, a sentimental end to an intriguing and unfortunate tale of miscommunication, internal strife within the Red Sox organization, and a very confused chain-of-command on Yawkey Way. Youkilis was given a start yesterday. He went 2 for 4 with an RBI triple. He received numerous ovations, both when he stepped to the plate and when he was replaced by pinch-runner Nick Punto.
After the game, it was announced that the Red Sox had traded him to the White Sox. The Red Sox will still be paying part of Youkilis' $12.25 million salary. In return, they received Zach Stewart, a 25 year old minor league pitcher. And Brent Lillibridge, a utility player with experience in the outfield and infield.
Yeah. That's it.
Zach Stewart was recently optioned by the White Sox to AAA Charlotte. He made 18 appearances for Chicago, 1 of them was a start. He's been a long-reliever type for them, and carries a 6.00 ERA. As a reliever, he has a 5.18 ERA. He made 11 starts last year between the White Sox and Blue Jays. He was 2-6 with a 5.88 ERA. He did manage a Complete Game Shutout.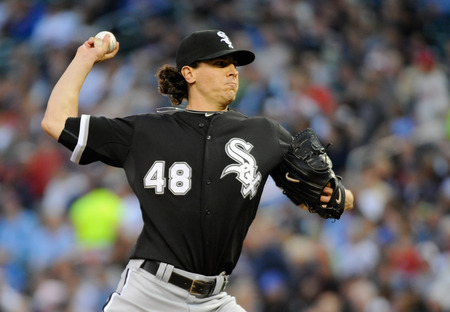 He was drafted by the Reds, then traded to Toronto, then signed by Chicago, and now he's in Boston. He'll actually be sent to Pawtucket. At best, this guy could potentially be a decent mid-reliever.
Brent Lillibridge is versatile. He's played all infield and outfield positions. He has no bat. He's a career .215 hitter. He strikes out in 29.6% of his plate appearances. He doesn't walk.
He showed some potential in 2011, hitting 13 homeruns in 186 at-bats. And his average was a decent-for-a-utility-player .258. He's also had some occasional good numbers in AAA, but never with consistency.
He's fast. And he can play 7 positions. Considering the Red Sox' injury situation, he's not a bad guy to have on the roster just in case. But he doesn't do much to improve a healthy team.
I guess this was the best the Red Sox could do. Stewart at least has potential for growth into a reliever. And if more players go down, Lillibridge can play the field. It's not much for a guy who was once an MVP candidate and has a career OBP of .388.
The Sox were in a corner. Youkilis has been awful this year. Middlebrooks has been great. With Ortiz and Gonzalez, there was no place else for Youkilis. He's been repeatedly injured, and it will cost a team $1 million to buy-out his contract next year.
The alternatives to this motivated selling were to release him, get nothing, and still pay him. Or to keep him as a bench player. And after this trade, it doesn't look like that would have been a horrible thing. At least not in theory.
There were concerns about what a benched Youkilis might do for the chemistry of the team. He voiced displeasure at the Red Sox failing to communicate with him what their intentions were. At the same time, the media knew more about the Youkilis situation than Youkilis did. Fenway Park is a 100 year old structure but the most incessant leaks have been Youkilis rumors.
The Red Sox bungled this situation. Information and rumors were leaked to the media. The organization itself didn't seem to know what it was doing, yet was never afraid of making determined declarations. For instance in May you had Ben Cherington declaring Youkilis would keep his starting job, even though he was still injured and Middlebrooks was hitting .381 at the time.
And during all this, as rumors flowed, the Sox didn't communicate with Youkilis. And that might have made him more of a clubhouse concern than his lack of playing time. Weirdly, the trade rumors may have instigated the need to trade him. That and the Sox not knowing what they were going to do and then not keeping Youkilis in the loop about his future.
The Youkilis situation has finally been resolved, but the Chain of Command that runs the Red Sox is still a tangled mess of contradictions and confusion.
Photo Credit:
AP Photo