Be advised, this post includes pictures of young, scantily clad ladies showing school pride. This might not be safe for work.
My picks last week were an abysmal 6-13, dropping my overall record below .500 (46-48-1). Here are my picks for this week's game:
Washington +4 @ California
Washington has a better record.
Minnesota +12 vs. Michigan
Gophers at home, with a good sized spread, why not?
Florida -17 vs. Missouri
Mizzou only has 1 SEC win.
Mississippi State +7 vs. Texas A&M
Game is in Mississippi. Advantage Bulldogs.
Georgia Tech -8 @ Maryland
No faith in Maryland's QB.
NC State -10.5 vs. Virginia
UVA, once again, is rubbish.
Stanford -28 @ Colorado
The Buffaloes might be one of the worst teams in the FBS.
West Virginia -5.5 vs. TCU
Pair of Big XII newcomers in Morgantown, I'll take the Mountaineers.
Wake Forest -3 vs. Boston College
BC is dreadfully bad.
Nebraska -1.5 @ Michigan State
Slim spread.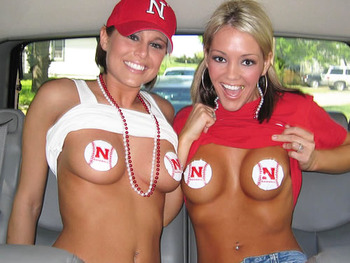 Purdue +3.5 vs. Penn State
More scandals for PSU, more distractions.
Northern Illinois -34.5 vs. UMass
The NIU Huskies are 8-1, and UMass are 0-8.
Texas +7 @ Texas Tech
Always believe in the Longhorns over the Red Raiders.
Pitt +17 @ Notre Dame
One of these weeks my anti-ND picks will work out.
Clemson -12.5 @ Duke
Tigers are good.
USC +8.5 vs. Oregon
Should be a fun game to watch.
UConn +8 @ South Florida
UConn needs to win if they want to make a bowl game.
Kansas State -8 vs. Oklahoma State
Can't not pick K-State.
LSU +8.5 vs. Alabama
I think Bama wins, but by a small margin, so LSU covers.