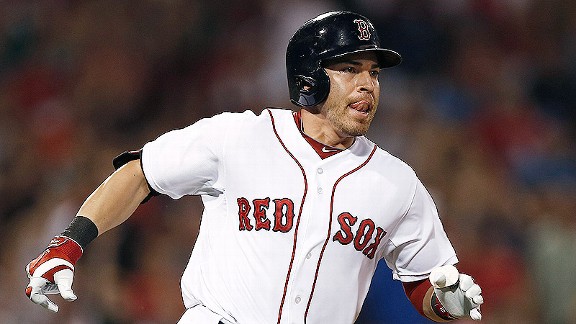 It's a sad day for the Pink Hats. Well, it will be a sad day in a few months when they turn to their friends and ask "Where's J-Cobes?" Once they realize that their favorite Fenway hottie is gone, they'll cry more than they did the day Tyler Seguin was traded.
The Yankees bought Jacoby Ellsbury early in the Holiday Shopping season. Although they didn't get much of a bargain. A total of $153 million for 7 years. Ellsbury turned 30 in September.
I can't say I blame Jacoby. I think it's lame and dishonest for any of us to call him greedy. He's been paid $20.8 million in his career to date. By the end of this deal he'll have collected a career total more than 8 times that much. Would any of us refuse a raise like the one Jacoby has accepted? A 242.9% raise. He made $9 million in 2013. He'll earn that by June 11 of 2014.
I would have preferred he stay with the Sox. He's a good player. He was a key component in two World Series winning campaigns. Players like him don't grow on trees. Et cetera.
He's not worth this price, though. Not for that many years. Five years and $100 million, maybe. Maybe.
My two biggest issues with Ellsbury are that he performs much better in contract years than non-contract years. And that he lacks power. His best asset is his speed.
He's been able to utilize that speed to compensate for his lack of power. However how much speed will he have toward the end of this contract? Will he be stealing 50 bases a year in 2018? Will he steal 20?
His other production isn't enough to justify such a heavy and lengthy commitment. His OBP (.355 last year) is good, not great. He's hit 65 career homeruns, 32 of which were in that freakish Brady Anderson style contract year of 2011. He's never reached 10 HRs in any other season.
There's an old saying in baseball: "Speed never goes into a slump." That's true. At the same time, speed does disappear with age. When speed disappears for power hitters, they can still drive the ball out of the park or off the wall. When speed dependent players like Ellsbury slow down, their careers slow down.
As Ellsbury's speed deteriorates, so will his numbers. He collected 24 infield hits in 2013, boosting his OBP by .038 points and his average and SLG by .042. As he ages his infield hits will go down. He hit 8 triples in 2013. Some of those will become doubles. He hit 31 doubles. Some of those will become singles.
Ellsbury helps the Yankees. And for the next 3 or 4 years this deal might look wise. Unless Ellsbury gets hurt. Which also has a tendency to happen. I don't question his fortitude as much as others have, but he's hardly an ox. Anyway, in a few years the Yankees will have an old, slow, poor hitting, poor fielding, poor throwing outfielder collecting $21.8 million a year. The Red Sox will have $153 million to spend on a more complete player or players.
Yankees first play the Sox on April 10th in the Bronx. The first Fenway series starts on April 22nd. Tickets for these games have just skyrocketed to the top of many Christmas Wish Lists.