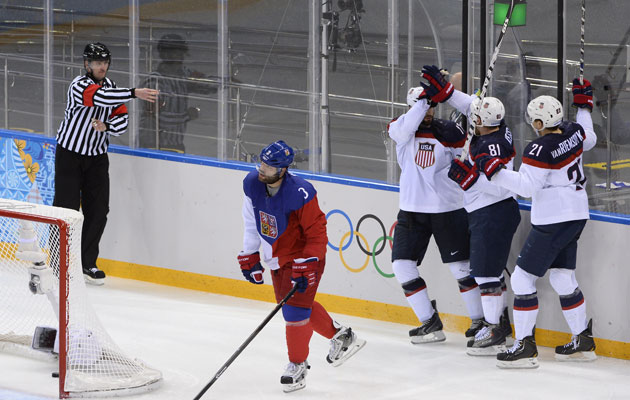 This was such an excellent, complete win. Just about everybody who took the ice for Team USA made a significant contribution. The coaching staff also came up with a good gameplan to neutralize the Czech Republic's strengths.
Five different USA players scored goals: James van Riemsdyk, Dustin Brown, David Backes, Zach Parise, and Phil Kessel. Ryan Suter had 3 assists, Ryan Kesler had 2. The US scored 4 of their goals in the dirty area of the ice close to the net. The 5th goal was on a breakaway that utilized the vast width of the European ice sheet.
The US won essentially all of the physical battles. This was spearheaded by guys like Ryan Callahan and David Backes. Brooks Orpik also did some hitting, and some of those hits were legal.
Defensively USA didn't allow the best Czech players the time and space to make plays. Jaromir Jagr only got one shot on goal, as did David Krejci. In the first two periods the Czechs only got 13 shots on Jonathan Quick. And one of those was actually a botched Ryan McDonagh clearance attempt that ricocheted off of Ryan Suter's skate and into the US net.
The only Czechs who were consistent threats were Ales Hemsky and Martin Hanzal (who's so hot right now).
Jonathan Quick didn't have a hard day of work in the office, but he did his job, and didn't make his teammates work harder than necessary. No soft goals.
It's impossible not to be excited by this team. They have a good mix of players who are adept at playing different kinds of hockey. They have a great goalie, strong defense, they block shots, they make hits, they're fast. There's no apparent weakness to exploit, no chinks in the armor.
That being said, their next game is their biggest test. They'll be playing Canada Friday at noon (Eastern) on NBC Sports in a rematch of the 2010 gold medal game. The winner advances to this year's gold medal game, the loser will play for bronze.
Both semifinal games are rematches of the last two gold medal games. Sweden plays Finland Friday morning at 6:30 in a rematch of 2006.
I can't wait. The US women's team will also be playing Canada for gold Thursday afternoon at noon on NBC.
Photo Credit:
Getty Images