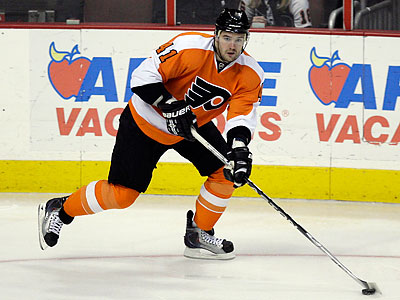 The Bruins needed to add a defenseman. If they failed to do so, their chances of winning a Stanley Cup would have been quite small. They traded a 3rd round pick to the Philadelphia Flyers for defenseman Andrej Meszaros. It's a very "meh" trade.
Meszaros is 28-years-old, 6' 2" tall and weighs 223 pounds. He's played with Zdeno Chara as a member of the Ottawa Senators, who originally drafted him late in the 1st round of the '04 draft. He's played in 38 games this season with 5 goals, 12 assists and a +1. He has 46 games of playoff experience in Ottawa and Philly.
My main concern is penalty killing. Since losing Dennis Seidenberg, the Bruins' penalty kill has statistically been one of the worst in the League.
Meszaros is averaging 0:51 of shorthanded ice time per game this season. Once again, meh.
I'm not thrilled about that. That's good that he plays on the penalty kill. And he improves the defense, adds depth, et cetera. He reportedly has played well with Zdeno Chara in the past. Bruins GM Peter Chiarelli is familiar with him, as he was part of Ottawa's front office when Meszaros was drafted. So maybe he'll improve as a member of the Bruins.
So the Bruins slightly improved their biggest weakness. Hopefully Meszaros does work well with Chara. Hopefully they click. Hopefully Chara can make Meszaros a better player.
All I know is the Bruins have a suspect penalty kill and special teams takes on added importance in the postseason. I don't think the penalty kill improved much, although it did improve somewhat. Time will tell.
Until we know, my reaction to this trade is just "meh."