The most important position is starting pitcher. Those clowns who claim that a pitcher shouldn't be eligible to win MVP because hey don't play every day have a fundamental comprehension problem when it comes to the game of baseball. Pitching isn't everything, but on the list of the top 5 most important things in baseball, it's numbers 1, 2, 3, and 4.
The Red Sox allowed the fewest runs in baseball last year, a poultry 4.1 per game. In the playoffs, the Sox allowed 3.3 runs per game. And that's why they won it all. It wasn't Ellsbury's "excitement" or David Ortiz's "clutchness" or even Mike Lowell's stability. It was good, solid pitching.
Starting pitching is also the biggest reason why the Red Sox bullpen was statistically the best in baseball. The bullpen wasn't deep last year. Apart from Papelbon, Okajima, and Timlin; it was a crapshoot. But with good starters going deep into games, mediocre arms like Javier Lopez's were kept relatively unexposed.
This year's rotation has more question marks than Matthew Lesko's jacket.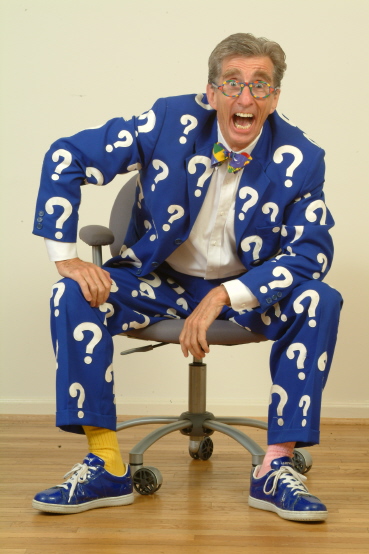 Who will be the #5 starter? What will the Sox get from Colon? When will Schilling return and what will he give the team? How will Daisuke pitch now that he's had a year to adjust to America? How will young guys like Lester and Bucholz perform? How will Wakefield's back hold up? And the latest question: When will Beckett be ready to go?
Despite the recent back spasms, Beckett is the most reliable and undoubtedly the best pitcher in the rotation. he's an Ace, a bona fide Ace. He was the only 20 game winner in the Majors in '07, was 6th in the AL in ERA at 3.27, was 7th in strikeouts with 194, was 6th in WHIP at 1.14, and should have won the Cy Young.
His post-season numbers were even more impressive. In 4 starts, he went 4-0 with 30 innings (7.5 per start), 4 earned runs (1.20 ERA), 19 hits, 2 walks (0.70 WHIP, which is absurd), and 35 strikeouts (10.5 K per 9 IP). Just to put things in perspective, Erik Bedard led the AL in strikeout to walk ratio with 10.93 to 1. Beckett's K/BB ratio in the post-season was 17.5 to 1.
Last year he did a good job of becoming a complete pitcher instead of just a hard thrower. He kept his walks down (only 40, compared to 74 BBs in '06), and kept the ball inside the park (17 HRs in '07 compared to 36 the year before). He turns 28 in May and is in the prime of his career. Look for more of the same from Beckett in 2008.
Then things get a little messy. Who is the #2 starter? Well, with Beckett out, Schilling out, Matsuzaka expecting a baby and Colon still doing bullpen sessions; it will probably be Lester or Wakefield who gets the ball for the 2nd game of the year. But that should change.
The fact of the matter is that the Red Sox don't have a #2 starter, at least not at the moment.
The Sox hope that Daisuke Matsuzaka steps up into the role of #2 man on the rotation. Dice-K was a bit of a disappointment last year, but that was mainly due to the incessant hyping he received before the year began.
In his "rookie" season, Matsuzaka appeared on several different statistical leader boards. He was 9th in the AL in hits allowed per 9 innings with 8.40. He was 6th in strikeouts per 9 innings with 8.84. He was 9th in homeruns allowed with 25. He was 6th in walks allowed with 80. He was 6th in strikeouts with 201. He was 4th in hit batters with 13. He was 6th in earned runs allowed with 100.
When Daisuke was in Japan, he was so much better than the hitters over there, that he could simply toy with them. He could fall behind in the count, waste multiple pitches, and dance around the plate. He could then challenge hitters over there and almost always came out the victor.
But Major League hitters are on a much higher level. They take pitches, they know the strike zone. They're fearless. They crush mistakes about 95% of the time. They're exhausting to face. They work the count and understand how important the count is.
One major difference between Nippon Professional Baseball League and the Majors is that in Japan, the more pitches a hitter sees in an at-bat, the more lost he becomes. But in America, the more pitches a hitter sees in an at-bat, the more tuned in he becomes. Daisuke averaged 3.98 pitches per plate appearance last year, and 17.0 pitches per inning. There's no denying his arm strength to do this, but when you show Major League hitters that much, they will figure you out.
In order to become a good Major League pitcher, Daisuke will have to do something similar to what Beckett did. Instead of relying purely on natural talent, he will have to become a pitcher. He'll have to understand the dynamics of the count, understand the psychology of a Major League hitter. He'll have to throw first pitch strikes. He'll have to be able to throw strikes without challenging hitters. He has the ability to do all of this. But it's up to him, pitching coach John Farrell, and Jason Varitek to help him get this done.
If he doesn't become more of a pitcher, expect more mediocrity and inconsistency in 2008. But if he learns from last year and straightens himself out, he will become a force.
I think he'll improve on his performance and by the end of the season settle into the #2 spot. I see a 17 win season with an ERA in the 3.75 to 3.95 range. Good, but not great.
And things get even more messy...
Like Daisuke, Tim Wakefield was a member of the not-so-prestigious 100 earned run club in 2007. Don't let the 17 wins fool you, Wakefield had a dreadfully average year in 2007. His ERA of 4.76 was just above the league average of 4.74. He allowed 22 homeruns and walked 64 batters. His WHIP of 1.349 was, in a word, unimpressive. And now his age becomes a question. Wakefield was unable to play in the World Series last year, and he turns 42 in August.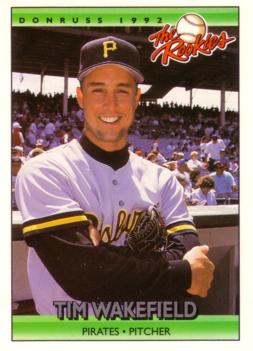 Wakefield benefited from being in the same division as the Devil Rays. He went 4-1 against Tampa. He also loves pitching in domes. He went 3-2 against Toronto. In domed stadiums, he was 4-1 with a 1.69 ERA. Perhaps the Sox should look into building a dome over Fenway after all.
Looking at Wakefield's numbers, a trend becomes apparent. He was great for the first few innings, then was beaten up, usually around the 4th or 5th. He started 31 games in '07, and failed to go 5 innings in 4 of them. He failed to go 7 innings in 19 starts. He'd go 3 or 4 strong innings, start to falter in the 5th, then collapse in the 6th or 7th.
Here is a glimpse at opposing hitters' performance based on Wakefield's pitch count:
From pitches 1 to 45, opponents were 77 for 345, which is a .223 average. From pitches 46 to 75, hitters were 71 for 226, which is a .314 average. Wakefield only averaged 93.2 pitches per start, his lowest total since 1999, and 2nd lowest in his career. This was due to his inability to pitch well after passing 45 pitches.
The problem with Wakefield isn't just that he tires out and loses his edge after 45 pitches. The main problem is that he has one pitch. Once he goes through the lineup once, hitters will adjust to that one pitch. At first, it causes problems for them, as illustrated by their .223 average early in games. But once they see it, they figure it out, and Wakefield is doomed.
Considering his age, his numbers, and the type of pitcher he is; I think Wakefield would be perfect for the bullpen. The knuckleball would be the ultimate change of pace if Wake came in after a guy like Beckett and before a guy like Papelbon. But at the moment, he might be the Opening Day starter.
Once everyone comes back to the rotation, I think Wakefield will be moved to the pen. I don't see it as a demotion, although it is. To me, moving him out there would be an attempt to better utilize his strengths, while minimizing the effect his weaknesses.
Then there's Curt Schilling. The Red Sox gave Schilling a 1 year deal, then shortly after he was down with shoulder problems. There's no word yet on when he will return, or how effective he will be when and if he does.
Last year injuries hampered Schilling and reduced his starts as well. He went 9-8 in 24 starts, threw 151 innings, and had an ERA of 3.87. But he shined in the post-season, going 3-0 in 4 starts with an ERA of 3.00.
Despite being 41 years old, Schilling is still valuable to this team. I don't think he'll do much to contribute during the regular season, maybe make 16 starts, throw about 100 innings, and that's it. Schilling's real value is in the playoffs. He just knows how to step it up in October. His 11-2 post-season record and 2.23 ERA in 19 innings speak for itself.
But there is a definite possibility that Schilling won't pitch AT ALL in 2008. The debacle over his shoulder had doctors debating whether or not to perform surgery or just rehab it. Schilling is the biggest question mark on the Red Sox, which is saying quite a bit.
Jon Lester showed signs of improvement in 2007. The knock on him has always been how often he finds himself in jams. He's usually able to navigate through them without much trouble, but his pitch count piles up and he has to leave the game earlier than you'd like a starter to leave.
But all of his numbers made slight improvements last year. His ERA went from 4.76 in 2006 to 4.57. He struck out batters more often, and walked batters less often. His WHIP dropped from 1.65 to 1.46. Opponents went from hitting .294 off him to hitting .257. He went from averaging 5.42 innings per start to 5.55. In '06, he threw 4.11 pitches per batter, but that number dropped to 3.95 in '07. In '06, he averaged 18.6 pitches per inning compared to 17.2 last year.
That 17.2 pitches per inning is still on the high side. With that average, a pitcher reaches 100 pitches at 5.8 innings. But, if the improvement he showed last year continues into 2008, he might be able to get that number down to 16 pitches per inning (100 pitches in 6.25 innings), or 15 per inning (6.67 innings). If he can do that, and maintain a steady ERA below 4.50, he'll be a real asset at the bottom of the rotation.
I think Lester will have a solid year. I see 30 starts for him, 15 wins, and an ERA around 4.30.
Then there's Bartolo Colon. Despite good reports from his bullpen sessions, I'm still skeptical. I still think it was a good acquisition. The Sox can't lose. But the 250 lb. righty has only made 28 starts the past two years. And when he has started, he's been ineffective. Last year his ERA was 6.34 with a WHIP of 1.62. That's just not good enough, not even for a #5 starter. In my opinion, the Red Sox won't get more than 8 starts from Colon, and his ERA will be as bloated as his midsection.
Clay Buchholz went from prospect to hero with his no-hitter on September 1st last year. But concerns over his development prompted the Sox to shut him down for the post-season.
Buchholz made 4 appearances last year for Boston: 3 starts and 1 relief outing. Apart from his no-hitter, and the 3 innings of shutout relief (both against lowly Baltimore), he wasn't too impressive. He had a decent 6 inning, 3 earned run start against the Angels which he won. His last start was a 4.2 inning effort against the Blue Jays, in which he received the loss.
Buchholz wasn't stellar in AAA Pawtucket either. In 8 starts, he went 1-3 with a 3.95 ERA.
He'll most likely start the season on the 25 man roster, maybe even in the rotation. Schilling and Colon are still a long ways off from starting games, Beckett's back spasms will force him to miss a start or two, which leaves space for Buchholz. But he really belongs in AAA Pawtucket once the rotation comes to order. After all, he's only 23.
A slim possibility for a starting pitcher is Julian Tavarez. The Dominican Dandy made 23 starts for the Sox last year, and actually had a decent stretch in May and June. But by and large, he was below average. As a starter he was 6-11 with a 5.22 ERA. Opponents hit .281 off him.
One odd stat with Tavarez that really has no explanation is the amount of unearned runs he allowed. Onbiously better pitchers like Beckett will be able to pitch around defensive miscues better than Tavarez, but the Red Sox as a team allowed 39 unearned runs in 2007. 12 of those came with Tavarez on the mound. No other pitcher had more than 6. Maybe Julian needs to do a better job as defensive coordinator when he's on the field.
An even slimmer possibility at starting pitcher is Kyle Snyder. Snyder is capable of starting, but his best place is in the bullpen. He was a decent long-reliever last year, and as a starter, he pretty much sucks. Think about it, he wasn't good enough to be in
Kansas City's
rotation. In the last three years, Snyder has made 14 starts. In those starts, he's 3-8 with an 8.51 ERA.
Kyle will remain in the bullpen, where he is solid in relief and on drums.
The Red Sox rotation will start the season jumbled and confused. With 2 games in Japan, then more exhibition contests before a 2 game series in Oakland, the Red Sox can use the same 2 starters in the first 4 games.
It will take some time for the rotation to settle, what with all the injuries, and fat old men. But when the dust finally clears, I think it will look something like this:
1. Josh Beckett
2. Daisuke Matsuzaka
3. Curt Schilling
4. Jon Lester
5. Tim Wakefield
Sources:
Baseball-Reference.com
ESPN
The Baseball Cube