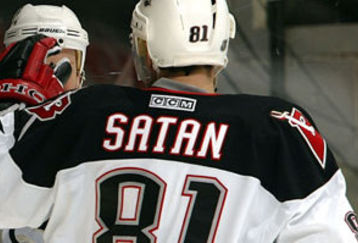 The Bruins signed veteran free-agent winger Miroslav Satan to a 1 year, $700k deal Sunday. Satan had been playing in the Slovakian leagues, but earned a spot on their Olympic roster. He scored 17 goals in 65 games for Pittsburgh last season.
He's 35 years old, and this is sort of a John Smoltz kind of signing. The Bruins don't lose much, but have an opportunity to add some experience and some goal-scoring to their lineup.
The Bruins remain extremely deep at forward, but if this deal works out, that depth could be used on the trading market. Satan himself cannot be traded, but a guy like Blake Wheeler is very tradeable.
I'm not thrilled by this acquisition, but I'm not disappointed. It costs nothing but a measly $700k in cap space, and Satan has potential to add some goals. He's not the kind of player I want the Bruins to pick-up (a mucker to win battles on the boards), but he can help out in some areas.
Source:
AHN