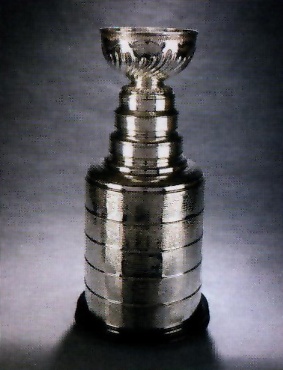 The Bruins have been holding photo taking sessions with the Stanley Cup for season ticket holders. And yesterday, my friend's uncle's girlfriend had two extra tickets for this experience. And I was lucky enough to receive one of them.
We could touch the Cup. We could hug it. Some even kissed it. The only thing not permitted was lifting it off its table. They're probably paranoid about that ever since Michael Ryder dropped it.
It was surreal. I've never touched a Championship trophy before, and none of the other trophies have the same allure of the Cup. There's a new Lombardi Trophy every year. But there's only one Cup.
Touching it was a bit surprising. I thought it would feel colder, like metal usually does. But it felt warm and familiar. That's because it's not just silver, it's nickel. And we handle nickel every day in nickels and quarters.
The texture isn't as smooth as you'd think either. Just pick up a quarter and rub it. That's how the surface of the Cup feels. It's not rough, nor is it slick. Now granted, when I touched it, it was covered in finger prints from everyone else who'd taken a picture with it. So maybe when it's all polished up, it feels smoother.
I didn't pick it up, but I did hug it. And it's not as heavy as you'd think. It's not a giant chunk of metal. It's metal wrapped around a hollow core. When you see something that big, that glisteningly metallic, and it's a bit surprising that it doesn't weigh half a ton.
As a sports fan, it was a pretty cool experience.