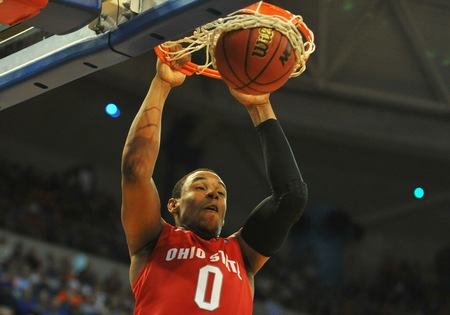 The Celtics aren't rebuilding, they're adding. They were a few plays shy of an NBA Finals appearance and they seem to think that they're only a few pieces away from going further than that in 2012-13.
Their picks reflect that optimism. They selected big men with their back-to-back first round picks. These are guys who can fit into a role while Garnett, Pierce, and Rondo lead the way.
With the 21st pick they took Ohio State's Jared Sullinger, who fell in the draft because of back issues. He's 6' 9" and 268 pounds. In two seasons at OSU, he's averaged over 17 points and 9.7 rebounds per game.
The back is a potential worry, but how can you pass on this guy's talent and size with the 21st pick? It is kind of funny how the Celtics were partially undermined in the playoffs by injury issues so now they've added a young player with injury issues. However, if he stays healthy, he can completely change the shape of the game for the Celtics.
The C's are very streaky shooters. Having a big man that can rebound will help the offense get second chances, and help prevent opponents from going on runs by getting more defensive rebounds.
At 268, Sullinger is now the biggest player on the Celtics.
The new tallest member of the Celtics is Fab Melo out of Syracuse. The 7' and 255 pound center has a reputation for effort problems. Who knows how true those issues are and how much they'll translate to the NBA. He's in a good environment, with veteran teammates, and a coach that won't stand for less than 100%. And he needs the Celtics more than they need him.
He hauled in some rebounds this past season, which was his sophomore season at SU. 5.8 per game. He also blocked 2.9 shots. That may have been a product of Syracuse's zone system, which had Melo loiter under the hoop like Robin Williams in
Jack
.
Nevertheless, he can come off the bench and be tall when KG needs a breather. In the playoffs, especially against Miami, opponents drove right down the middle when Garnett was sitting. Put Melo out there, and they'll have a much more substantial obstacle in their path.
In the 2nd round, the Celtics took another Syracuse product, which means ESPN and all the SU Newhouse School of Communication grads at ESPN will probably love the C's this year.
Kris Joseph is a 6' 7" and 215 pound small forward. It seems like he peaked his junior year at Syracuse, as all his numbers went down slightly as a senior. He shot worse from the field, rebounded less, fewer points, fewer assists.
Whatever. In the first round the Celtics added 13 feet and 9 inches of height. They added 523 pounds of bulk. They got bigger. They got better.