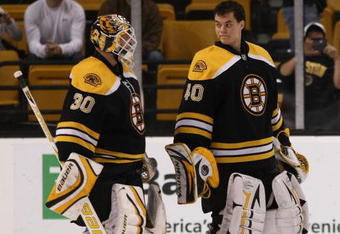 After the Penguins series it was impossible to not compare Rask in '13 to Thomas in '11. Rask's numbers were better. He was improving as the playoffs went on. He had just shut down the best offense in the NHL, allowing only 2 goals in 4+ games of hockey. He carried the Bruins to the Finals.
It wasn't meant to be, though. The Bruins weren't able to push around the Blackhawks like they had the Canucks in '11. They didn't get into Chicago's head. Crawford had a heavy glove but he didn't have Luongonian meltdowns.
And Rask wasn't as good in the Finals as Thomas was in 2011. Yes, that was a difference between the two years. This isn't a criticism of Rask. It's a reminder of how absurdly inhuman Thomas played in 2011.
The two finished with eerily similar postseason numbers. Rask had a 14-8 record, Thomas was 16-9. Rask had a 1.88 GAA, Thomas had a 1.98. Both had save percentages of .940. Rask's was .93955, Thomas's was .93993. So every 2,500 shots, Rask would allow an extra goal. What's the difference?
The big difference was how they performed in the Finals. Rask allowed 16 goals, Thomas allowed 8. Rask's GAA in this series was 2.21, which is very good. Thomas's GAA against Vancouver was 1.15, which is unfuckingreal. Even if you take out Rask's worst game, that 6-5 shootout in Game 4, Rask's GAA was 1.65, higher than Thomas's in 2011 (and if you take out Thomas's worst game in those Finals, he had a 0.84 GAA).
Rask came down to earth in this series after his Game 3 shutout. In the last 3 games he allowed 11 goals. And while only a few were ones he should have stopped, and he made plenty of brilliant saves that kept the Bruins in those games, he was no longer carrying the team. The Finals were his second worst series of the playoffs, behind the Toronto series.
Thomas saved 96.7% of the 246 shots he faced in the 2011 Finals, a record. He made 238 saves, another record. He allowed the fewest goals ever in a 7-game Finals series.
I think we forget how well Thomas played in that Vancouver series. Two of his losses were 1-0. In Game 3 when the Bruins won 8-1, it was a great 1st period by Thomas that kept the game 0-0, and led to the Bruins' embarrassing Luongo. We remember the Bruins eventually owning the Canucks, but it was a tough series. The Bruins were down 2-0, then 3-2. We look back at the final scores of games and see 4-0, 5-2 and forget how hard those games were for the team to win, and how much easier it was to win because of Thomas.
In the Finals Thomas was named the #1 star in all 4 Bruins wins. And in the losses he was named #2 star twice and #3 star once.
And let's not forget the 1-0 shutout in Game 7 against Tampa Bay. That was clutchness.
One thing that's remained the same with the Bruins from 2011 to 2013 is that they sometimes have these really crappy, almost lazy periods. They commit dumb penalties or struggle in the neutral zone, or worst of all they give the puck away in dangerous areas. That's when guys like Rask and Thomas are asked to be the best goalie in the world to keep the B's from falling behind or blowing a lead. Thomas did that in 2011. Rask did that most of the time in 2013, just not all the time. And not in the Finals.
I'd forgotten how many saves Thomas had to make after giveaways in '11.
Maybe the 2013 Bruins needed Rask to be great more than the 2011 Bruins needed Thomas to be great. That's arguable. Even if true, in the Finals Rask wasn't as great as he needed to be, or as he could be. Thomas was in 2011. Rask's best series was when the opponents had goalie issues and had whiny forwards who didn't play defense, in other words when the Bruins didn't need him to be great. Thomas's best series was the 2011 Finals.
I'm not ripping Rask, I'm pointing out that what Thomas did in 2011 is difficult to match. I'm not saying Rask was a main reason the Bruins lost, although that 5-hole goal in Game 6 is burnt in my memory. Rask, however, stopped being a reason that they were winning.
So sign Rask, because he has proven he's a good playoff goalie. Give Rask a new contract, but give Thomas his due credit.