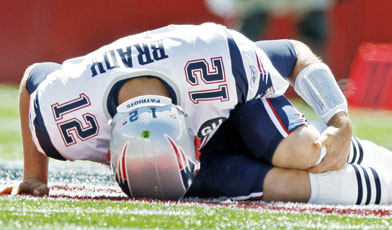 Tom Brady received 19 of 50 votes to win the 2009 NFL Comeback Player of the Year Award. Cadillac Williams finished 2nd, with 14 votes.
Who were the 14 clowns who voted for Cadillac Williams? The guy rushed for 821 yards and 4 touchdowns on a team that went 3-13. Brady, after missing a season due to torn ACL and MCL, registered a 96.2 QB rating, threw for 4,400 yards, and 28 TDs. He led his team to the playoffs, and this was with no running game to support him. Oh, and it was also with a potentially broken finger, and messed up ribs.
Yet 14 people voted for Cadillac Williams.
Source:
Boston Herald