The Big XII now has ten teams in it. Which is an X in Roman numerals. So maybe they should change their name to the Big "X" (pronounced 'ex'). Anyway, the Big XII no longer has a title game, so all the teams will be facing each other every year.
1. Oklahoma Sooners
The Sooners' pass-happy offense would make any coach smile. QB Landry Jones finally started to mature last season, and he has weapons like All-American WR Ryan Broyles (131 catches, 1622 yards, 14 TDs) among others. The defense has some soft-spots, but it's good enough for the Big XII. The biggest challenge will be winning tough games on the road. OU's only 2 losses alst year came in Columbia, MO and College Station, TX. This year they have games in Tallahassee, FL and Stillwater, OK to deal with.
But this team is really, really good.
Key Games:
9/17 @ Florida State
9/24 vs. Missouri
11/5 vs. Texas A&M
12/3 @ Oklahoma State
Prediction: 11-1, Big XII winner, National title game contender
2. Texas A&M Aggies
The Aggies bring back 18 starters from a 9 win team. They're strong at all offensive positions. For example, WR Jeff Fuller was the first Aggie in history with a 1,000+ yard season. They do need the defense to step up just a bit if they want to win the conference. Because Oklahoma's offense is simply that good. In a slugfest against OU, the Aggies come up just a bit short. So if that defense can gel, and they can slow down the Sooners a bit, they'll win their first conference title since 1998.
Key Games:
9/29 vs. Oklahoma State
10/1 vs. Arkansas (in Arlington, TX)
10/29 vs. Missouri
11/5 @ Oklahoma
Prediction: 11-1, 2nd in Big XII
3. Oklahoma State Cowboys
The Cowboys might have the best offense in the Big XII. They were 3rd in the country last year. QB Brandon Weeden threw 4,277 yards and 34 TDs. WR Justin Blackmon caught 111 passes for 1,782 yards and 20 TDs. The Cowboys' Achilles heel is their defense. Their front 7 is young. Ultimately, their defense will let them down, and keep them out of a BCS bowl. I do think they'll beat Oklahoma, but they'll lose 2 conference games before then.
Key Games:
9/24 @ Texas A&M
10/22 @ Missouri
12/3 vs. Oklahoma
4. Missouri Tigers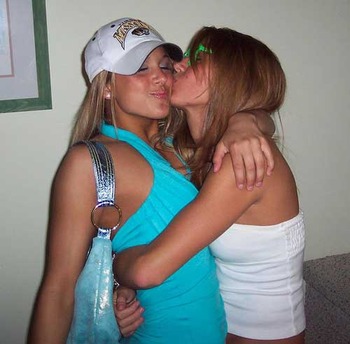 The Tigers bring back 9 offensive starters from a unit that was already solid last year. Whoever they find to step up as quarterback will be blessed with riches. They'll be good receivers to throw to, good RBs to hand-off to, and a good line to protect him. The Tigers also bring back 7 defensive starters from a unit that was better than solid last year. They're a dark horse to win the Big XII, although they have some tough road games to endure.
Key Games:
9/9 @ Arizona State
9/24 @ Oklahoma
10/22 vs. Oklahoma State
10/29 @ Texas A&M
Prediction: 9-3
5. Baylor Bears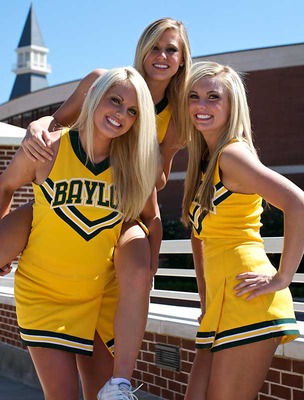 If you haven't been able to watch QB Robert Griffin, you've been missing out. Last year he threw for 3,501 yards and 22 TDs, and also ran for 625 yards and 8 more TDs. He should have a good 2011 as Baylor boasts some quality WRs. They do need to find some RBs to move the ball on the ground. And unfortunately, their defense will be their undoing. They'll be fun to watch, because games will be high scoring, back-to-back slugfests, but they'll wind up on the wrong end of those against the better teams in the conference.
The Big XII needs teams like Baylor to step up and become solid programs. And in case the Big XX disintegrates, Baylor needs to impress new potential conferences.
Prediction: 7-5
6. Texas Tech Red Raiders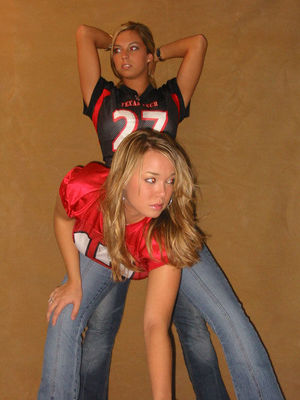 Tech's up-tempo offense will struggle unless they figure out who is going to throw the ball and who'll catch it. They simply don't have the horses this year. And their defense continues to be a mess. They'll be using their 3rd coordinator in 3 years. They'll beat the weak teams of the conference with ease, but will then be casually brushed aside by the powerhouses.
Prediction: 7-5
7. Texas Longhorns
The Longhorns have turnover problems, and no clear QB. Their entire offense is a one big question mark. However, their defense is something to be proud of. They've got a core of good LBs, and they should keep Texas in games until the start of the 2nd quarter. What's ironic is that everyone gets to watch UT's rebuilding process on TV, thanks to the new Longhorn Network. That channel and the football program might have been better off if it started broadcasting in 2012, instead of 2011.
Prediction: 7-5
8. Kansas State Wildcats
K-State has no clue who their QB will be. They have no clue who their RB will me. And the RB mystery is worse because they relied heavily on the run last year. Even the offensive line is full of holes. The defense will likely improve thanks to its linebackers. But still, this is simply an untalented team without any sense of direction.
Prediction: 3-9
9. Iowa State Cyclones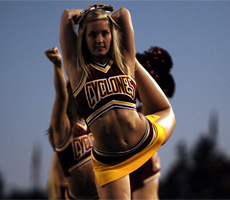 There really isn't any talent in the skill positions, whatsoever. At least the defense will improve and mount some pressure on opposing QBs.
Prediction: 3-9
10. Kansas Jayhawks
If KU is going to be a contender again, it certainly won't be this year. They've got some talent in the pipeline, but it will take time to develop it. The defense lost its best pass rusher, and looks to be worse than it was last year. Which sucks because it was the 103rd scoring defense in the country.
Prediction: 2-10