Week 1 rarely teaches us much, and by the time November comes, we usually don't remember nor care what happened. That's why it's kind of smart for some programs to schedule big non-conference games in Week 1. A win gives them momentum and can solidify their spot in the rankings (and get them TV games later in the year). A loss can be forgotten by the time the rankings really matter.
Here's what we learned about the 2011 season:
1. ROBERT GRIFIN III (RG3) IS FOR REAL, SO IS BAYLOR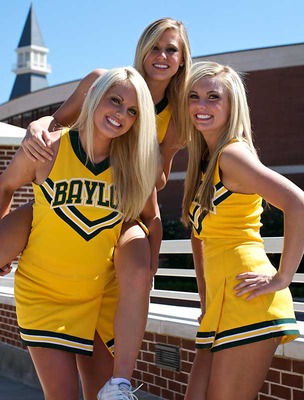 This is an important year for Baylor. The Big XII is on the verge of disintegration, which will leave Baylor's fate up in the air. If they can win some games, make some noise, and get to a decent bowl game, then they can have some decent options for which conference they want to go to next. I'm thinking they might replace TCU in the Mountain West.
Anyway, RG3 threw for 359 yards and 5 TDs, he also ran for 38 yards, and caught a pass for 15. Not bad at all.
2. NOTRE DAME IS OVERRATED
It's shocking that people would rank Notre Dame higher than they belong. Absolutely baffling. If the Irish can't handle USF in their own backyard, how will they handle trips to Ann Arbor and Stanford, as well as visits from Michigan State and USC?
3. LSU IS VERY VERY GOOD
The SEC West is wide open. LSU just joined Alabama and Arkansas as the leading contenders. They dominated Oregon in a semi-neutral location (Baton Rouge is 450 miles from Arlington, Eugene is 2,000 miles away). It's almost impossible to go undefeated in the SEC, so having a big win like that already in the bank can help give the Tigers a national title berth, even with 1 loss or perhaps 2.
4. OREGON CAN'T WIN BIG GAMES
The Ducks weren't terribly outplayed, but they made huge mistakes at the worst points of the game and at the worst spots on the field. 4 turnovers, 12 penalties, and another loss to an SEC defense. The Ducks fly high when they're much more talented than their opponent, but when they face equal talent, they have yet to demonstrate the character it takes to win big games.
5. ONLY ONE TEAM CAN WEAR SILLY UNIFORMS
Speaking of Oregon, only they can wear silly threads and look cool. That's because their uniform was ridiculous to begin with. Forest green with lime green writing? Why not modify that? But when teams with traditional colors and standard uniforms try to copy Oregon's creativity, it never works out. Georgia's uniforms were so ugly, that they even failed at being ugly. Maryland's looked like a nightmare, Boise State's were ugly AND boring. Every team will try to imitate the Ducks, but only Oregon is Oregon.
6. USC'S DEFENSE ACTUALLY DID SOMETHING POSITIVE
It's hard to be impressed by a 19-17 home win over lowly Minnesota, but USC did something in this game that they notoriously failed to do in 2010: their defense made a big play at the end, instead of choking down the stretch. In the Pete Carrol days, USC won with their defense. Their current incarnation might not be as athletic or as dominant, but at least they apparently no longer will cost the Trojans any games.
7. LIGHTNING SUCKS
Lightning seemed to effect about half of the games this weekend. It was a rare set of circumstances with several large weather systems covering the country. As the season progresses, and the weather cools down, lightning will stop being a factor.
8. IT'S GOING TO BE A LONG YEAR ON CHESTNUT HILL
The Eagles amassed 479 yards of offense, including 375 from QB Chase Rettig. But the BC quarterback couldn't get the ball into the endzone, and the eagles lost to a mediocre team that had a backup QB under center. Now BC travels to Orlando to play UCF, who won 11 games last year. A loss to UCF, and the Eagles can kiss bowl eligibility goodbye.