The Red Sox bullpen was decent last year. They didn't blow many saves. They had the 13th best bullpen ERA in the Majors, with the best WHIP. Then the Sox decided to let their best reliever go to Philadelphia, and convert their second best to a starter, with their third best likely to find his way into the rotation as well.
They did go out and acquire a handful of arms to try to backfill the voids left by Papelbon, Bard, and (eventually) Aceves. They got a closer who has never saved more than 26 games a season. Another guy who saved 20 last year and won 8 games as a reliever.
Andrew Bailey is from Voorhees, NJ. That doesn't bug anyone? The Sox once had Michael Myers on their roster, now they have a guy from Voorhees? And their home opener is on Friday the 13th. Why not rename Yawkey Way Elm Street?
Anyway, I don't trust the closers that Oakland produces. It's a very pitcher friendly ballpark. Bailey's numbers look pretty good. 75 career saves, only 9 blown ones. He doesn't walk people, he doesn't give up homeruns.
And now he's hurt. He might be out for 3 to 4 months. Even if he were healthy, he's never been tested. He's been closing a few games for a sub .500 team in front of less than 20,000 fans a game. Now he has to close games in a playoff race in front of a packed ballpark. He hasn't pitched more than 50 innings since his rookie year. And probably won't in 2012 either.
So he's capable of succeeding. It will be interesting to see how he deals with adversity in this city. If he blew a save in Oakland, who cared? It's a bit different here. I think he'll be decent when healthy. Not as good as Papelbon, not bad enough to search for a mid-season replacement.
Mark Melancon's resume is interesting. He's only 27 but the Sox are his third Major League organization. He was a reliever in college, which always raises a yellow flag for me. I feel like the best Major Leaguers relievers were once starters at a lower level.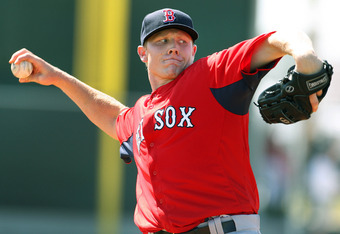 But he is a worker. He made 71 appearances and pitched 74.1 innings last year. And it was his best year. He won 8 games, recorded 20 saves, had a 2.78 ERA and a 1.22 WHIP. He only let 4 of 17 inherited runners score.
There are very few Mike Timlins out there who can have a long, consistently successful career as a setup pitcher. Maybe Melancon has a few good years in him, maybe he's already peaked, maybe he's a future closer. But for 2012, I think he'll be very good as a set-up man and should be okay as a replacement closer.
The problem is, with Melancon closing, you get an inferior pitcher setting up to replace him.
Matt Albers is a token middle-reliever. He recorded 10 holds last year, blew 3 saves, had a 4-4 record. He pitched mostly in losses. He was actually pretty good until August and September. He's a gap-filler, pitching the 6th inning of a game that the Sox are behind by 3 runs, pitching the 8th inning of a game that the Sox are winning by 5 runs. And as a gap-filler, you just want someone who isn't horrible, who doesn't make bad situations worse, or make you use your closer in a game you once had a 6 run lead in. And Matt Albers isn't horrible.
Franklin Morales isn't a shutdown situational lefty. But on the bright side, he's not bad against righties, either.
I'm not a fan of Morales. I'd rather have a guy who can dominate left-handed hitters and who can only give you 0.1 innings a night as opposed to a guy who is semi-good against both lefties and righties. Morales is very similar to Albers, in my view. These gap-fillers are fine, but the Sox need a second setup pitcher to emerge from this mediocre middle of the bullpen.
Michael Bowden has been in the Sox' organization since high school. He never excelled as a starter so now he's being used as a reliever. It's the equivalent of a failed film actor trying to make it as a TV actor. He's only 25, but this is his 7th year with the Sox.
He was a very good reliever in AAA Pawtucket last year, but struggled once he hit the Majors. He has potential to be the 2nd setup pitcher and as a former starter he's quite capable of pitching 2 or more innings in an appearance. I have a good feeling about Bowden. I think he has a breakout year as a reliever and records at least 20 holds.
The quality of the Sox bullpen will improve if the rotation struggles. Which is like saying that a car's engine will run more smoothly if the tires fall off. A slight bit of good news mixed with some horrible news.
If Bard can't make it as a starter, there's your 2nd setup man. But how many leads will he, Melancon, and Bailey need to protect? Where Aceves winds up will determine quite a bit. If Bard and Doubront struggle, you need to plug Aceves into the rotation. A setup pitcher might be more important than a #5 starter, but not a #4.
If the Sox had acquired just one frontline starter in the offseason, not only would their rotation been solidified, it would have dramatically improved the bullpen. Now you have guys like Morales and Albers who will need to be used when Matsuzaka throws his 5 inning, 140 pitch gems.
And there's very little safety net for this bullpen. With the loss of little old Andrew Bailey, the entire bullpen and even the rotation look so much weaker.
It's a very shallow, very tenuous bullpen.