The bulk of the Sox' offensive production will have to come from the infield. That shouldn't be too much of a problem.
Adrian Gonzalez had a satisfying 2012. However, he struggled against the two most important Red Sox opponents: the Yankees and Rays. He hit .183 against New York and .131 against Tampa Bay. For the Sox to compete in the AL East this year, they need one of their top hitters to perform in big games against these key opponents.
Expect another season with around 30 homers, 110+ RBI, and an OPS well above .900. The question is, when (and against whom) will he hit those homers and knock in those runs?
Dustin Pedroia had another good season last year. And unlike most of his teammates, he didn't flounder in September. It'll be interesting to see how he adjusts to Bobby Valentine. Pedroia was probably Francona's biggest ally in the Sox clubhouse.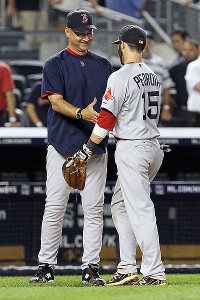 But Pedroia doesn't seem like the type who'll let a manager affect his effort levels. That's why he's the most likable player on the team.
The Sox traded the .299 hitting Marco Scutaro because...
Um...
Well all Scutaro did was hit well, play solid defense, play through injury, and was willing to accept whatever role the Sox wanted him to fill. And that's just not the type of player we want in Boston. Especially when the Sox can trim $6 million off their payroll by trading him to Colorado for a minor league pitcher.
And the Sox used that freed up money to invest in...
Um...
Well anyway, Liverpool are in 8th place in England.
Mike Aviles will be the shortstop in Boston. For now. He'll be paid $1.2 million. He hit .317 in 101 at-bats for the Sox last year. He's a capable hitter. He doesn't strike out much and he can steal the occasional base. He's not as good offensively as Scutaro. And defensively, he's something of a liability.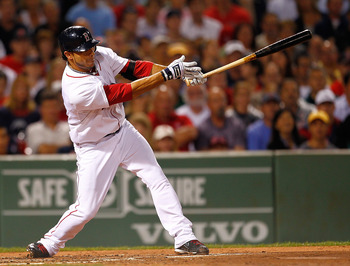 After finishing 3rd last year, the Sox downgraded at short-stop, just like they downgraded at closer. The Sox have made no significant upgrades at all this offseason. Where's the outrage?
Speaking of rage...
Kevin Youkilis will be at third base. It'll be interesting to see how his personality interacts with Bobby Valentine's. I doubt it will negatively impact Youkilis' production. Although he hasn't been able to recapture his impressive 2008 and 2009 numbers. This is the year the Sox need him the most. How well Youkilis does will have a considerable impact on the lineup. He can either extend the quality in the middle of the order, or be the beginning of the bottom.
David Ortiz is overpaid. I wouldn't mind if the Sox weren't on a strict budget this offseason. $14,575,000 is a hefty sum for a guy who takes 4 or 5 at-bats a night. He did well last year, except he wasn't hitting for much power in September. Which is when the Sox needed a power hitter to knock a few out of the park. He had 1 homer in that final month. Along with 5 doubles.
Although maybe an official scorer screwed him out of a double or two. Actually that probably didn't happen because Ortiz would have loudly bitched about it.
He's 36 years old, so it's time to expect to see his numbers turn downhill. What we don't know is how steep that slope will be. He'll always be a patient hitter, so his OBP probably won't suffer much. Last year he had 70 extra-base hits and I'd say that's a good target for 2012.
He's 22 homeruns away from 400, and I think he'll get there this year, but just barely.
One thing I like about the Sox lineup is that the players are versatile. Ellsbury and Pedroia can be at the top, but can also fill slots in the middle. Gonzalez, Youkilis, and Ortiz can be shifted around that middle depending on match ups and who's hot or cold.
But if one or two key hitters slump at the same time, the entire lineup gets cold. There's not enough quality at the bottom of the order to make pitchers work hard every inning. I think you'll see similar overall numbers to last season, with close to 900 runs scored. But there will be floods and droughts. They'll put up 14 one night then struggle to score 2 the next.
Overall, the Sox are once again loaded with more questions than answers. The rotation is top-heavy at best, the bullpen is one injury away from disaster, and the offense has multiple holes. I expect 85 to 90 wins, and maybe that 2nd Wild Card berth.
I do not expect an extensive playoff run.