The Sox rotation is top-heavy. It's success will depend on how heavy that top can be. Teams have been successful in the past with just 2 or 3 great pitchers. 2 pitchers can start 60% of a 5 game series, and 57% of a 7 game series. 3 pitchers can do 80% and 86%.
So you only need 3 great pitchers. The question with for the Sox rotation in 2012 is: can 2 or 3 be great enough to make up for the lack of quality in the others?
Jon Lester is a dependable rock. He's never been an Ace, but he is reliable and very productive. You can count on Lester for an ERA between 3.20 and 3.50, 190 to 210 innings, 15 to 19 wins, and a WHIP between 1.20 and 1.27. In the last four years, he has not deviated outside of these ranges.
Maybe this is the year he steps up and becomes an Ace, but I think that is an unfair expectation. I think this is the year that he pitches like he's pitched for the last 4 years. He'll win 17 games, with an ERA around 3.40. A very fine, very respectable, quality year of work.
Josh Beckett is as unpredictable as Jon Lester is predictable. From game to game, year to year, Beckett is a gamble. He had a 2.89 ERA last year but only managed 13 wins in 31 starts. That was partly due to bad luck. 8 of his 11 no-decisions were Quality Starts.
The question with Beckett has never been "what's he capable of?" It's always been a question of consistency? Going into last September, he was 12-5 with a 2.54 ERA. He was 1-2 in September, with an ERA of 14.79. Which is the real Josh Beckett? They both are.
In 2012, I think Beckett will win at least 18 games. His ERA will be around 3.10. But he'll have some very bad starts, hopefully not at a time when his teammates need him to be his best. But as a whole, I actually am optimistic about his 2012 season.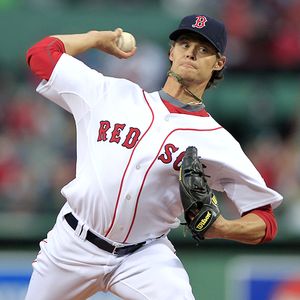 Clay Buchholz's health could determine if the Red Sox contend for the AL East, or struggle for the 2nd AL Wild Card. He emerged as a frontline starter in 2010, winning 17 games with a 2.33 ERA. Last year he struggled in April then settled down in May and June, going 5-0 with a 2.59 ERA in those months. And if he didn't get hurt, who knows how the season would have gone.
Back injuries worry me. And Buchholz' physique is far from burly. There's no way to tell how well he'll recover from his injuries. If he doesn't, the Sox have a void in a rotation that already has a few voids after him.
If Buchholz does well, the Sox will be contenders. If Buchholz is just okay, the Sox can survive. If Buchholz struggles, they can't.
Why is Buchholz so important? Because the back-end of the Sox rotation is garbage.
Daniel Bard hasn't been a starter since 2007 when he was with Single-A Greenville and High-A Lancaster. It did not go well. In 22 starts (17 in Greenville, 5 in Lancaster) he managed to pitch 75 innings (3.4 per start). He had an ERA of 7.08 and a WHIP of 2.05.
That was a long time ago. He was 22 years old and just out of college. He was converted to a reliever in 2008 and did so well in that new role that it got him to the Majors by 2009. Walks killed him as a starter (he averaged more than one an inning) and he's dramatically improved in that area. Against MLB hitters, he walks 0.386 per inning.
That's one inning per appearance though, against hitters who hadn't yet seen his stuff. This Spring, he's struggled as a starter. 13 walks in 18.2 innings. And 17 hits.
As a reliever, he's been able to fool batters one time. As a starter, he's not fooling anyone and certainly not fooling them twice.
I don't expect him to finish the season as a member of the starting rotation.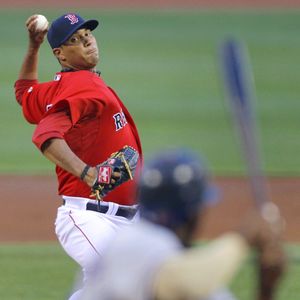 Felix Doubrant is having an unbelievable Spring. Which means a lot today, but will mean nothing on Thursday. He's bounced around the lower levels of the Sox' minor league system, occasionally excelling and occasionally disappointing. I'm not surprised the Sox are giving him a chance to be a starter, I'll be shocked if he's still in the rotation once summer starts.
Alfredo Aceves has much more starting experience than Bard. 108 minor league starts and 9 in the Majors. Aceves could be a serviceable 5th starter. An innings eater. He won't be horrible like John Lackey was last year. He'll give 5 or 6 innings of solid work a night, with an ERA hovering above 4.50. And that's not bad for a 5th starter.
But if he is the 4th starter, then that's scary.
Right now he's in the bullpen, but I think will wind up in the rotation very soon.
It's a chilling thought, but the savior of the Red Sox rotation might be Daisuke Matsuzaka. He might not be able to return until the middle of summer. And his contribution will be even less predictable than usual thanks to Tommy John surgery.
But if Lester pitches like Lester, Beckett pitches up to (or even close to) his potential, and Buchholz manages to stay healthy, Daisuke is not a bad 4th starter.
Unfortunately for the Sox, Daisuke needs a strong bullpen in order to succeed. And we'll discuss how unlikely that will be in the next preview post.