This goes to someone who wasn't expected to do much, only to do quite a bit. This year's nominees are...
Clay Buchholz - SP, Boston Red Sox
Nathan Horton - RW, Boston Bruins
Danny Woodhead - RB, New England Patriots
BenJarvus Green-Ellis - RB, New England Patriots
Rob Gronkowski - TE, New England Patriots
The winner is...
Danny Woodhead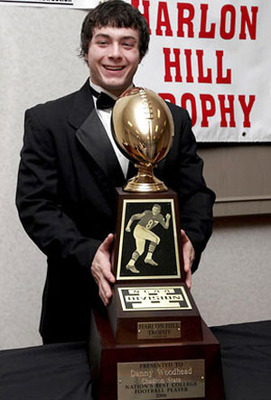 The reason he wins the Award is because he truly came out of nowhere. A Division II "star" cut by the Jets, then signed by the Patriots. We all thought that the Pats hired him as sort of an informant, because he was acquired the week of the Jets game. Pay a guy an NFL wage for a week, he tells you all about the team you're about to play, then you cut him. Cutthroat Bill Belichick at his finest.
926 total yards from 131 touches (7.1 yards per), and who is he now? He's one of the key cogs to the Patriots' dynamic offense. And a few months ago, he was dropped by the Jets so they could activate David Clowney.