This award goes to the most memorable, thrilling, important game in Boston sports in 2013. And this year had no shortage of great games. Obviously there was the Red Sox World Series run, and the Bruins went deep into the Stanley Cup playoffs. But one game stands apart for its drama, its impact, its thrill-factor, and its lasting imagery. It's a game that all I have to do is post one picture, and you'll know which game I'm talking about...
Game 2 of the ALCS between the Boston Red Sox and Detroit Tigers.
Detroit had a 5-1 lead in the bottom of the 8th. There were 2 outs and the bases were loaded for David Ortiz.
He hit a Grand Slam that none of us will ever forget.
And in the 9th Jarrod Saltalamacchia hit a single to left to win the game.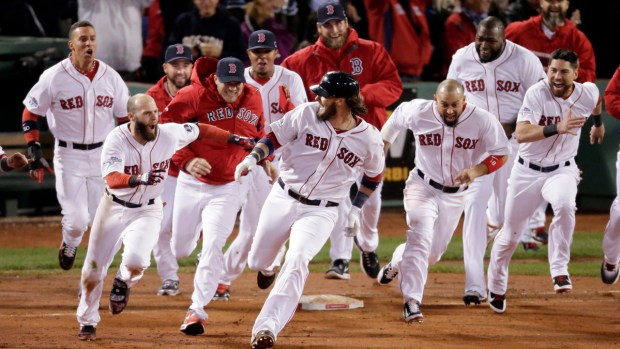 The game not only had excitement and memorable imagery, it had impact. The Tigers were 4 outs away from going up 2-0 in the series, sweeping two games in Fenway. Who knows how the series would have gone had the Tigers taken such a commanding lead.
Instead, David Ortiz tied the game and the Sox tied the series. They won 2 of 3 in Detroit, then clinched the series in Fenway.
And the rest is history.