This award goes to the best player on the Patriots. Because these awards are for the calendar year, we can consider last year's playoffs. But not this year's.
There were a few players who warranted consideration for this award. The winner is someone whose production was a surprise, and was also much needed.
The winner is Julian Edelman.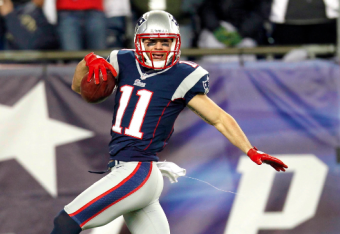 Honorable mentions to Logan Mankins and Aqib Talib. And Tom Brady, of course.
Julian Edelman became only the third Patriot in team history to catch over 100 passes, hauling in 105. He amassed 1,056 receiving yards, scored 6 touchdowns, averaged 10.1 yards per catch, never fumbled, and averaged 10.7 yards per punt return.
And the Patriots needed him to do all this. Rob Gronkowski only played a few games. Danny Amendola was in and out of the lineup. Same with Shane Vereen. Stevan Ridley was unreliable at times. Aaron Dobson and Kenbrell Thompkins were never dependable. Edelman stepped up and became Brady's most reliable weapon.
His 1,056 yards accounted for 24.3% of the team's total receiving yards. His 105 catches accounted for 27.6% of Brady's completions. Brady targeted Edelman 151 times, which was 24% of Brady's throws.
Even when Gronk was back in the lineup, Edelman was still a major part of the offense, Two of Edelman's four 100 yard games were when Gronkowski was active, along with 3 of his 6 TDs.
Edelman saved the offense.