I feel like this Award should be sponsored by Popeye's or Miller Lite. Despite the collapse, despite the detestable nature of most of this team, there were some good players who did try. Here are the nominees...
Alex Gonzalez, 1B
Dustin Pedroia, 2B
Jacoby Ellsbury, CF
David Ortiz, DH
The winner is...
Jacoby Ellsbury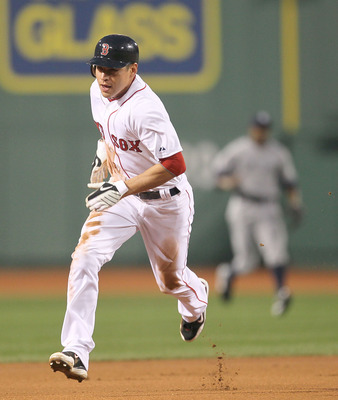 With all the end of year turmoil, we've sort of forgotten that Jacoby Ellsbury finally had a breakout year. He was criticized in 2010 for not being tough enough and not playing through injury. He's been criticized in the past for not getting on base enough, and being more of an 8 or 9 hitter than a leadoff hitter.
In 2011 he had a career high OBP of .376, he led the league in total bases with 364. He hit .321, knocked in 105 RBI, hit 32 homeruns, and was the first ever Red Sox player to join the 30/30 club. He was 2nd in MVP voting, won the Gold Glove and Silver Slugger.
If the Red Sox turn things around in 2012, it will be centered on production from guys like Ellsbury.